<!- mfunc search_box_body ->
<!- /mfunc search_box_body ->
HVAC service technicians show up at every job equipped with some serious problem-solving skills. They get right to the source of the problem – identify it, isolate it and fix it. It's a special skill-set and not everyone's got a mind for this kind of systematic troubleshooting.
"I look at it like they are like doctors," says Angie Snow, co-owner of a Utah-based HVAC maintenance company. "They are coming in and diagnosing equipment, going through checkups. We need to look at it like that. Doctors are specialists in their field and technicians are specialists in their field."
Service technicians are the ones who get the call when the cold air stops trickling out of the vents on 110-degree days in Phoenix or when the oil furnace coughs black smoke and quits on a snowy Maine evening. At any hour, they might find themselves crawling through a sweltering attic or squirming around in a tight crawlspace, trying to diagnose a system they've never seen before, using their theoretical knowledge and practical experience to figure out what the problem is and how to fix it– or work around it.
For those who can handle the work, it's a lucrative business to be in.
"They have the ability to make a lot of money. There are less and less people in the trade who have the ability to fix and diagnose. The amount of money you can make, there's a lot of opportunity there." Angie Snow, owner of Western Heating & Air Conditioning in Utah
Guys that work on the construction and installation side of the industry are at the whim of housing booms and busts, staying busy when the building cycle is booming but often struggling to find work when it's slow. But this isn't the case at all with service techs. People don't choose when HVAC systems break. Service calls come in nonstop during good times and bad.
As Mike DeRicco, a 26-year-veteran service tech puts it; "I've never been without work since I started in this trade."
Service Technicians Have to Think On Their Feet
Installers can specialize in working with a specific manufacturer's system or on certain types of install jobs, but service technicians don't have that luxury.
"You have to be able to work on any piece of equipment at any time whenever you get out on a service call," says one thirty-year veteran commercial refrigeration technician we talked to. "You don't know what you're going to encounter."
This means that service technicians have to be able to take their experience with similar systems and combine it with their training and knowledge to create a mental model of how it all comes together as they try to isolate the source of a problem.
To accomplish this, service technicians have to have expert knowledge in everything from electrical theory and thermal load calculations to the refrigeration cycle – not to mention the nuances of different manufacturer equipment and various types of systems, from heat pumps to geothermal.
Most service technicians rely on a formal education to develop these vital technical skills, spending one or more years in a technical school program that covers HVAC theory. But the book learning doesn't stop after graduation.
<!- mfunc search_box_body ->
<!- /mfunc search_box_body -><!- mfunc feat_school ->
Featured Programs:
Sponsored School(s)

<!- /mfunc feat_school ->
"You can't possibly remember everybody's format for getting in and around and navigating the microprocessor," says one service technician we talked to. "You have to have the booklet to be able to do it."
Service techs need to commit to constant learning throughout their career. And this is truer now than ever with the HVAC industry evolving faster year over year than it has in previous decades combined thanks to new technology innovations.
"If you don't follow it, you kind of get lost," says Mike DeRicco. "The best thing you could do is keep up with things as they change."
DeRicco points out that manufacturers are constantly offering seminars and training sessions to help technicians stay familiar with their latest models and systems, and these days, software too.
Mastering the Tools of the Trade
Diagnostics work also means mastering a lot of tools for measuring electrical loads, temperature and humidity, and airflow and circulation.
The iManifold system allow techs to plug in numbers to calculate system capacity and perform onsite troubleshooting
AAB's Smart Tools provide plug-in sensors and apps to reduce the need to carry around a lot of special purpose tools for diagnostics
But other times, special tools such as Testo digital manifolds are still necessary to analyze system pressure
As IoT control systems and thermostats become common in both residential and commercial applications, service technicians are increasingly having to become software technicians… looking into the programming and code behind the control panel to diagnose systemic issues.
Technology doesn't stop with systems diagnostics, either. Basic administrative tasks like dispatching and billing are increasingly happening digitally and in the field, using laptops, smartphones, and tablets.
"Everything that I do is done on my phone," says Mike DeRicco. "All of my work orders are sent from the office onto my phone. I type the work orders on the phone and send them back."
Customer Service is King In HVAC Service
When things break and the office is sweltering at 120 degrees, you can expect customers to be a little bit testy. Part of being a good service technician is having the ability to cool things down before even pulling a single tool out of the van.
Everyone wants their problem fixed instantly and cheaply, but it doesn't always work that way. The troubleshooting process is one of the hardest things for customers to deal with.
One veteran technician we talked to told us, "A lot of times you have to tell a customer, 'Look, I've identified where the problem is, but I'm not sure that this is the fix. I don't know that this is going to be the absolute… I'm not going to put this in and guarantee it will take care of it.' It could be something else. And that's one of the hardest things to do."
And you have to do it diplomatically.
He went on to say, "There are certainly units out there that you look at and you go, 'This is a dog.' But you're there and you have to work on it. You can't go to the customer and say 'This thing is a real piece of junk.'"
Communication skills and the ability to communicate effectively and honestly with clients about the situation they are facing are absolutely vital for every service tech, but these kinds of skills don't always come easily. HVAC technical programs don't teach customer relations, but there are ways to pick those skills up.
"I've noticed that a lot of individuals who worked in retail before, or while they were going to school, have a little bit better knowledge on how to handle the customers," says Kyle Buscher, an HVAC service manager based out of Minnesota.
Commercial Versus Residential Service Calls
There can be considerable differences between working in commercial settings versus residential.
Both positions involve a considerable amount of independence. Residential technicians may be responsible for handling their own scheduling with clients, coordinating with other technicians when more hands are required, and even doing billing. And they absolutely end up on the front lines when communicating with customers and resolving questions.
Commercial technicians have a more solitary role.
Kyle Buscher, who has worked on both sides, has an insightful perspective:
"The guys who are doing it [commercial service] don't get as much time with other people, so if they're a social kind of person it burns them out. Whereas if they're a loner, that's a lot easier for those guys."
Buscher also characterizes the service hours for residential technicians as "unrelenting."
Even on the commercial side, the job isn't that predictable. Because systems can break anytime and often do during extreme hot or cold temperatures when aging systems are pushed to their breaking point. Service techs can spend a lot of time working after hours and driving in nasty conditions. Making matters worse, a lot of that work happens outside. Service technician Mike DeRicco told us, "I wish someone had told me that 85 percent of my work would be done on the roof of a building."
How to Become an HVAC Service Tech
With the highly technical requirements of the job, particularly in those states or municipalities that require licenses for HVAC technicians, most will come into the industry through a technical program in HVAC.
But there are other avenues into service work. Buscher's company hires assistants for unskilled labor tasks, to free up the technicians for more technical work. And DeRicco says, "I would say you could find someone who wants to teach you without going through a school."
Some companies want to get guys on early before they've had a chance to develop any bad habits so they can train them the way they want, in accordance with their processes and on the systems they specialize in servicing.
"We like to find a guy who isn't set in his own ways that we can kind of mold him into what we want," says DeRicco.
It's generally easier to find an entry-level job on the residential side of the business. Of course, the kind of service calls that residential shops respond to involve smaller systems and the stakes aren't as high as they are in the realm of commercial/industrial work where systems can run in to the millions and sometimes provide heating and cooling for thousands of people at once. Most commercial technicians have put in five or more years in residential work before moving over.
Getting into commercial work sometimes involves becoming a union member as well. In some regions, unions dominate commercial services. And in most cases, joining a union involves going through an apprenticeship process.
An apprenticeship can last for up to five years and involves both on-the-job training and formal classroom education.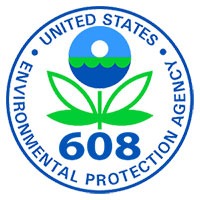 Although it's helpful to have a manufacturer cert or other certifications, service technicians deal with such a broad range of systems that in most cases, the most important certification they need will be their EPA Section 608 certificate to work with controlled, environmentally-sensitive refrigerant gases. In over 30 years in the industry, one service technician we talked to told us that his 608 cert was the only one anyone ever asked to see on the job.
Whatever path you take into the industry or background qualifications you might have, technicians who wind up in service tend to enjoy it. DeRicco, who is still going strong after 26 years in the industry, says, "I don't know if it's because I enjoy it so much or because I overlook that or if it's just that there isn't anything that's frustrating. I can honestly say I love my job and I love the work that I do."