<!- mfunc search_box_body ->
<!- /mfunc search_box_body ->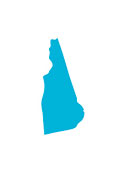 HVAC techs earning within the top 10% in New Hampshire made an average salary of $76,080 ($27.17 hourly) as of 2015 – higher than the national average for HVAC professionals in the top bracket.The US Bureau of Labor Statistics
Up until 2007, New Hampshire had no requirements at all for any HVAC technicians or contractors to be licensed.
But a terrible 2003 gas leak and explosion in Lake Winnipesaukee that injured six and killed five-year-old Amilia Luhrmann spurred the state legislature to act. In 2007, Amilia's Law was passed, requiring anyone working on gas lines or appliances within structures to be licensed by the New Hampshire Department of Safety (there were previously requirements only for working on outside gas lines)
The tragic incident, the result of a basic mistake in elementary gas safety procedures, points to the importance of a solid education for anyone working in HVAC. Even beyond that, as building automation and technologically advanced HVAC systems become standard, a formal education proves to be one of the best ways to prepare to enter the field.
An associate's degree or career diploma in HVAC-R from a technical college or trade school, can help ensure that you are making safe and responsible decisions as you install and maintain HVAC equipment.
<!- mfunc search_box_body ->
<!- /mfunc search_box_body -><!- mfunc feat_school ->
Featured Programs:
Sponsored School(s)

<!- /mfunc feat_school ->
Of course, gas installation is involved in only a specific subset of HVAC installations and you still may not need to be licensed to perform more mainstream HVAC work in New Hampshire that does not involve gas appliances. A voluntary program established in 2005 offers certification for oil heating technicians, but anyone working exclusively with other types of heating sources or refrigeration does not need any state-level licensing at all.
Obtaining a Gas Fitter's License to Work in HVAC in New Hampshire
You will need to meet experience requirements for obtaining a gas fitter's license in the appropriate endorsement category if working with natural gas heating installations.
.
You must work under a licensed technician as an apprentice or in an entry-level job until you have accumulated the necessary hours. Getting started in an entry-level position in the HVAC industry often starts with technical training through an HVAC career diploma program. This will allow you to gain the fundamental knowledge and skills necessary to be a competitive entry-level job candidate.
Your employer will guide you in selecting the right type of license based on the kind of jobs the company performs.
There are several different categories for this type of license, all of which fall under the state plumbing codes, but only three will be of concern for HVAC technicians.
Fuel Gas Installation Technician

100 hours of training – 1,000 hours of on-the-job experience – Handles installation of gas appliances and limited piping from internal supply points to the appliance.

Fuel Gas Service Technician

140 hours of training – 2,000 hours of on-the-job experience – Handles servicing and repair of interior and exterior piping from gas meters to appliances.

Hearth System Installation and Service Technician

60 hours of training – 2,000 hours of on-the-job experience – Can install and service home hearth appliance and venting systems using LPG gas as a fuel source.
It's possible to upgrade from an installation technician endorsement to a service technician endorsement with an additional 40 hours of training and a total of 2,000 hours of on-the-job experience (the initial 1,000 hours from the installation endorsement may be applied).
Although not as formal as an apprenticeship, trainee positions do require that you register with the Department of Safety as a trainee. The trainee registration fee is $90 and you must have a sponsor (typically, the employer you will be working for) before applying.
It is the responsibility of the sponsor to enroll you in a program listed on the state Department of Safety website as an authorized training resource to fulfill the training hours requirements. Most commonly, you will also take the relevant license exam as a part of the training course.
Complete an Exam Appropriate to the License Endorsement Level
The state legislation has set out a series of qualifying characteristics for tests rather than simply designating a particular test or testing provider. It is left to the Department of Safety to judge which available tests fulfill the legal requirements, and this list is subject to change. Currently, however, the exam options are:
CETP (Certified Employee Training Program).
Other NFPA-54-based tests offered by authorized trainers.
NATE (North American Technician Excellence) – If obtained prior to July 2014, or as an out-of-state licensee.
The initial two-year license fee is $190.
If you possess a license from another state, the Department of Safety will look at your credentials and decide on a case-by-case basis whether or not they fulfill New Hampshire requirements. If accepted, you need only file an application and pay the license fee to gain your endorsement.
Gas Fitter's License Renewals
Licenses expire two years from the date of issue. The renewal fee is $180 for licensed fitters. If, for some reason, you have not completed your training hours and received your full fitter license within two years of obtaining your trainee registration, a trainee registration renewal costs $80.
For both trainees and licensees, six hours of related continuing education hours are required during each two year license period. Qualified continuing education training providers are listed on the Department of Safety's website.
EPA Certification Requirements for HVAC Technicians
The Clean Air Act mandates that any person working with certain types of environmentally-hazardous refrigerants, such as freon or ammonia, be certified under Section 608 of those rules. Working with pressurized refrigerants of this sort is standard practice for HVAC techs, making this license a standard requirement in the industry.
Most HVAC positions working with air conditioning fall into this category and a Section 608 certification is often required as a condition of employment.
There are four categories of certification under Section 608:
Small appliances service and repair
Almost all technical college and trade school HVAC-R programs teach to these tests and many of them include the test itself as part of their program. This means you can graduate with not only your associate's degree or career diploma in HVAC-R, but also the EPA certification employer's look for.
Registering a Mechanical Business Entity in New Hampshire
New Hampshire does not require licensing for contractors in general. HVAC contractors who do not work with natural gas installations do not have to register with the state at all except in order to comply with general business licensing and tax regulations.
HVAC companies that do provide services that are covered by Amilia's Law, however, must register themselves as a Mechanical Business Entity with the Department of Safety. There are no qualifying requirements other than those necessary for individual technicians. Each of those licensed technicians must be listed on the application, however, and at least one person must be designated as the responsible managing employee.
The registration fee is based on the total number of employees:
Sole licensee – No fee
1-5 employees: $190
6-20 employees: $300
21 or more employees: $460
Mechanical business entity registrations are good for two years. The registration must be renewed for the same cost as the initial filing fee, except that entities with 21 or more employees need only pay $450 instead of $460.
HVAC Technician Salaries in New Hampshire
While New Hampshire's weather is notoriously unpredictable, one thing is certain: The winters get very cold, with an average low of 7° for the month of January.
Nearly half of all of the households in the state rely on fuel oil to stay warm during its winters, with the rest using natural gas and electric systems. This diversity helps provide opportunities for New Hampshire's HVAC technicians to diversify their skills and specialize.
The US Bureau of Labor Statistics reported that HVAC techs earning within the top 10% in New Hampshire made an average salary of $76,080 ($27.17 hourly) as of 2015 – higher than the national average for HVAC professionals in the top bracket.
In fact, HVAC technicians in Manchester earned the 10th highest salary in the country – both on average and for those in the top 10%. In fact, the average salary for Manchester HVAC techs in the top 10% exceeded that national average for this bracket by more than $21,000.
HVAC Technician Median Salary (2015)
HVAC Technician Median Salary-Top 10% (2015)
The median salary among New Hampshire's HVAC techs was $50,540 ($18.05 hourly) in 2015 – also substantially higher than the national median.
HVAC Technician Salaries in Manchester and Portsmouth
The US Bureau of Labor Statistics provides the salaries for HVAC technicians in the state's major metropolitan areas. The ranges below show the median to top 10% yearly and hourly earnings in New Hampshire's two largest cities.
Manchester

Annual: $57,840* – $92,800*
Hourly: $27.31* – $44.67*

Portsmouth

Annual: $54,120* – $67,390
Hourly: $26,02* – $32.40
*Salaries that exceed the national median or top 10%.
Industries that Hire HVAC Technicians in New Hampshire
New Hampshire Employment Security analyzed which industries employed the most HVAC technicians in 2014 and predicted their employment levels for 2024. As of 2014, nearly two thirds of these professionals worked in one of two major industries. The major employers in both 2014 and 2024 include specialty trade contractors and retailers.
As of 2014, about 35% of New Hampshire's HVAC techs worked for specialty trade contractors. Much of their work revolves around installing heating systems and keeping them running. The state of New Hampshire expects that this area will continue to be a promising one for HVAC techs and that it will employ almost 40% of the state's HVAC techs in 2024.
In contrast, the percentage of these professionals employed in the retails sector is likely to drop by 6% to a total of 22.6% in 2024.
Predictions suggest that 23 jobs a year on average will become available for HVAC technicians in all industries between 2014 and 2024.