<!- mfunc search_box_body ->
<!- /mfunc search_box_body ->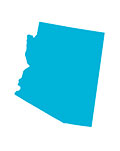 between 2014 and 2024 the number of HVAC technician jobs will grow by 51.4 percent. That comes out to some 420 new HVAC technician jobs becoming available in the state each year.Arizona Office of Employment and Population Statistics
Since Arizona has no state licensing requirements for HVAC technicians to meet, entering the field is all about becoming a strong candidate so you can compete for entry-level jobs. Arizona also offers HVAC professionals the unique opportunity to start working toward becoming a licensed contractor immediately without first having to meet intermediate licensing requirements.
<!- mfunc search_box_body ->
<!- /mfunc search_box_body -><!- mfunc feat_school ->
Featured Programs:
Sponsored School(s)

<!- /mfunc feat_school ->
There are two routes to qualifying for an HVAC contractor's license in Arizona:
Gain four years of on-the-job experience

This is an Feature List Item that is part of an Feature List. Notice the connector between the three graphics to show that they are related.

Gain two years of on-the-job experience and a certificate/diploma or AAS in HVAC-R through an accredited college or university program

You may be able to substitute up to two years of experience for completing a formal HVAC program at the sole discretion of the Arizona Registrar of Contractors after a thorough review of your qualifications
How to Become an HVAC Technician in Arizona
Even through Arizona provides a relatively easy path to becoming a contractor, you'll start your career in an entry-level HVAC tech position.
Starting out as an HVAC technician in Arizona involves securing employment with a licensed Arizona contractor. The only requirements for entering the field are imposed by employers.
Completing a formal HVAC program through a technical college or trade school will provide you with the classroom instruction and extensive hands-on training necessary to pave the way for a smooth transition to the real world. Many of today's HVAC programs provide training in servicing and installing solar powered systems.
These programs can result in a certificate/diploma (can be earned in as little as 4 months) or Associate of Applied Science (AAS) degree (can be earned in as little as 18 months).
You may also choose to complete your education and hands-on training through a formal apprenticeship. You can view a list of the most recent apprenticeship opportunities in HVAC through the Arizona Department of Economic Security here.
EPA Certification
Most employers require HVAC technician candidates to hold the Environmental Protection Agency's (EPA) Section 608 Certification. Your HVAC education or apprenticeship will likely include information on this certification, which is required for HVAC technicians who work with refrigerant or with the hoses and gauges designed to measure refrigerant/pressure.
You must determine which type of certification you will need based on the type of systems you work with (Type II covers most standard residential and commercial systems.):
Small Appliances. This covers small appliances that are manufactured, charged, and hermetically sealed with five pounds or less of refrigerants.
To earn EPA Section 608 certification, you must pass an examination that includes two sections: (1) a Core Section and (2) a section that aligns with the certificate type for which you are applying.
How to Become an HVAC Contractor in Arizona
If you want to become your own boss and start an HVAC company in Arizona, you will need to apply for an Arizona contractor's license, which requires at least 4 years of experience in the category for which you are applying. You may substitute your HVAC education or apprenticeship for up to two years of experience, based on approval from the Arizona Registrar of Contractors.
You can apply for an HVAC contractor's license as a sole proprietorship (individual), a partnership, a limited liability company, or a corporation. A contractor's license is issued to your business, not to you as an individual HVAC technician.
HVAC technicians may apply for an Arizona contractor's license in the following categories:
The following are the steps to take to become an HVAC technician:
Too Few Contractors to Satisfy Arizona's Rebounding Housing Market
It's no secret that Arizona was one of the hardest hit states in the Recession, losing more construction jobs than any other state in the nation, according to the Associated General Contractors of America.
The good news is that the state is slowly bouncing back. According to Lee McPheters, director of the JPMorgan Chase Economic Outlook Center at the W. P. Carey School of Business at Arizona State University, as of 2015, Arizona had restored about 75 percent of its lost jobs.
The not-so-good news is that homebuilders are now struggling to find enough skilled workers to keep up with the upswing in new home construction. During the peak of the housing boom in 2006, Arizona employed about 244,000 construction workers. Today, this number stands at about 140,000 workers – a decrease of 57 percent. One of the main reasons for this shortage is because many workers in the construction industry either changed careers or left Arizona in search of better job opportunities during the Recession.
In other words, the jobs may be returning to Arizona, but filling them is a persistent problem.
While a lack of qualified HVAC technician and contractors remains a challenge for Arizona homebuilders, for qualified professionals in the building industry, there's no better time to work in Arizona.
HVAC technicians and contractors in Arizona are enjoying the perks of a labor shortage and a strong demand for new homes. Builders are paying higher wages and offering cash bonuses to HVAC contractors, while HVAC technicians are benefitting from a wealth of job opportunities.
HVAC Technician Salaries in Arizona
Arizona has the highest projected job growth rate for HVAC technicians in the nation. The state's Office of Employment and Population Statistics estimates that between 2014 and 2024 the number of HVAC technician jobs will grow by 51.4 percent. That comes out to some 420 new HVAC technician jobs becoming available in the state each year. Compare this to the HVAC job growth rate for the nation for this same period of 13.6 percent.
HVAC Job Growth (National)
HVAC Job Growth (Arizona)
The strong demand for HVAC technicians in Arizona is significantly fueled by the state's robust population growth. Phoenix has the third-highest population growth rate of all metropolitan areas in the country, and the state's population growth in general was the eighth-fastest in the nation (American City Business Journals, 2017). That helps to explain why the Phoenix metro area has the seventh-highest employment level for HVAC techs of all metro areas in the nation (US Department of Labor, 2015).
Arizona's climate also makes the services provided by HVAC technicians particularly important, with hot summer days and freezing winter nights. The demand for HVAC technicians is also fueled by changes in the industry.
With the cost of energy increasing Arizonans want the most efficient, newest HVAC systems possible. Arizona News Online reports that in 2015 the smart HVAC systems industry was valued at $8.5 billion nationwide, and is projected to top $17 billion by 2024.
Statewide the average hourly wage for HVAC technicians is $21.77, or $45,280 per year (US Department of Labor, 2015).
What HVAC Technicians are Earning in Arizona's Biggest Cities
Salaries are presented as a range between the median and the 90th percentile. Numbers are taken from the US Department of Labor in May 2015:
Phoenix

Hourly: $19.80 – $30.28
Annual: $41,190 – $62,980

Tucson

Hourly: $23.59 – $38.75
Annual: $49,060 – $80,610

Mesa

Hourly: $19.80 – $30.28
Annual: $41,190 – $62,980

Chandler

Hourly: $19.80 – $30.28
Annual: $41,190 – $62,980

Glendale

Hourly: $19.80 – $30.28
Annual: $41,190 – $62,980

Scottsdale

Hourly: $19.80 – $30.28
Annual: $41,190 – $62,980

Gilbert

Hourly: $19.80 – $30.28
Annual: $41,190 – $62,980

Tempe

Hourly: $19.80 – $30.28
Annual: $41,190 – $62,980

Peoria

Hourly: $19.80 – $30.28
Annual: $41,190 – $62,980

Yuma

Hourly: $21.56 – $28.68
Annual: $44,850 – $59,650

Avondale

Hourly: $19.80 – $30.28
Annual: $41,190 – $62,980

Flagstaff

Hourly: $19.72 – $28.60
Annual: $41,020 – $59,490

Goodyear

Hourly: $19.80 – $30.28
Annual: $41,190 – $62,980

Lake Havasu City

Hourly: $13.09 – $18.14
Annual: $27,230 – $37,740

Prescott

Hourly: $18.24 – $24.17
Annual: $37,940 – $50,270